Summer is drawing near and I'm pretty sure that most, if not all, of you are thinking of places to go to during those hot summer days. And with airlines now offering more flights to and fro Camiguin Island, Mindanao, I'm sure many of you are considering the place dubbed as the "Island Born of Fire" as one of your summer destinations in the Philippines. 
Tia's Beach Resort in the Island of Camiguin, Northern Mindanao, Philippines can be considered a good place to stay especially if you're on a budget. The last time my mother, brothers and I stayed there was last year during the Holy Week. We planned to go to Camiguin at the last minute so practically most of the hotels and inns were already fully booked. Good thing my brother remembered Tia's Beach Resort and how he and his friends liked staying there. We ended up getting the very last available cottage – good for a family of 5. We paid roughly P1,000 per night. Not bad, right?
Tia's Beach Resort is located in Tapon, Poblacion, Barangay Mambajao, Camiguin Island. I think others call the place Tia's Beach Cottages. By the way, Tia's also has another branch which they call Tia's Pension House. That one's not along the shore, though.
The nipa-and-wood cottage we paid for had an airconditioning unit, three beds (we got two extra beds for P100 a bed), an electric stand fan, beddings, a clean shower room and comfort room, a mini veranda and a sink which can also double as a mini kitchen. The friendly staff can only provide a roll of tissue paper and two sachets of shampoo so if you have a large group, don't forget to bring some toiletries with you.
Tia's has a restaurant which serves good and affordable food. You can also request the kitchen staff to whip up something special like the scrambled eggs with tomatoes we requested them to cook for us. Their restaurant also has a videoke machine so feel free to sing your heart out.
Tia's Beach Resort Camiguin is also near the Mambajao Public Market so if you want to buy fresh seafoods or do some groceries, you can easily do so.
Perhaps the only thing that some travelers might not like about staying at Tia's is the fact that you need to walk roughly 150 meters before you can reach "the main road" (or at least the parola area where there are several other restaurants and public utility vehicles for hire) – unless, of course, if you're bringing your own private vehicle. Actually, you need to cross the Mambajao Airport strip (I kid you not!) before you can reach Tia's. Don't worry, though, the airport strip isn't used very often. Besides, a guard will also warn you if an airplane's about to land.
Anyways, bottom line is — Tia's Beach Resort Camiguin Island is safe, clean, has friendly and courteous personnel and has very affordable rates. I recommend staying at Tia's to barkadas, budget travelers and large families.
For more hotel reviews by Mindanaoan, please check this page. Don't forget to subscribe to Mindanaoan so you can always be kept updated with the latest here in the island. Just enter your email address below. Salamat! 🙂
BOOK YOUR CAMIGUIN ISLAND RESORT HOSTEL HERE (BUDGET ROOMS)
CAMIGUIN ISLAND HOTELS HERE: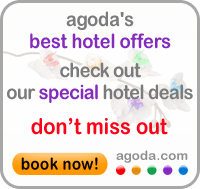 Mindanaoan is a multi-awarded blogger, content creator, seasoned social media strategist and publicist with undeniably successful track record. 2012 International Visitor Leadership Program (for global leaders) alumnus and O visa grantee (for people with extraordinary skills and who have risen to the top of their field). Avid traveler and a proud relief operations volunteer. Regular resource person for social media, blogging and content creation. Available for work and travel – [email protected]