Looking for a cheap hotel in Davao City? If you need an affordable place to stay in Davao City, Mindanao, then you might want to consider a dormitel (dormitory + hostel/hotel). A dormitel may not have all the fancy amenities found in a hotel but it does offer the basics — bed, washroom, shower, cable TV, aircon, wifi (in some cases). Just the right features for travelers who need a clean place to crash in and want value for their money.
One Davao dormitel that you might want to check out is C5. Located along Roxas Avenue, C5 Dormitel Davao is just a block away from the Ateneo de Davao University campus along CM Recto. C5 Dormitel is also just a few steps away from the renowned Marco Polo Hotel Davao and the tourist favorite Aldevinco Shopping Mall. So location is pretty good.
C5 Dormitel Davao City has 40 air-conditioned rooms with single and twin sharing accommodations with individual toilet and bath. The room I stayed in was a single deluxe room — it had cable TV, single bed, private washroom, shower (unfortunately no hot and cold option), vanity table, large cabinets and airconditioning unit (no remote control). I was told that this Davao hostel was supposed to offer free wireless Internet but when I stayed there, the wifi was busted. Oh well…maybe next time.
Within the C5 Dormitel compound, there's a coffee shop, a laundry shop, a travel agency and even a law firm. I failed to ask if they had room service but just in case you do get hungry, C5 is just right beside Chippens, a popular buffet place in Davao City. You can avail of the buffet there for about Php 358.00
Book discounted hotel rooms here:

Entrance to C5 Dormitel Davao City: (photo from C5)
This was how my single deluxe room looked like: (photo from C5)
Took this shot of the washroom: (toilet is okay, not spotlessly clean, unfortunately; they only provided one tiny sachet of shampoo and a single use bar of soap)

They had large cabinets:
Vanity table: (the room also had a lot of electrical outlets)
Ready to stay at C5 Dormitel Davao City?
The single deluxe room I stayed in only cost about US $25.00 per night. That's less than Php 1,000 per night. Not bad, I guess.
Book a room over at C5 Dormitel Davao by clicking the banner below: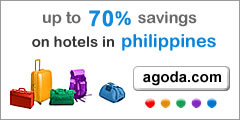 Related Images:
Mindanaoan is a multi-awarded blogger, content creator, seasoned social media strategist and publicist with undeniably successful track record. 2012 International Visitor Leadership Program (for global leaders) alumnus and O visa grantee (for people with extraordinary skills and who have risen to the top of their field). Avid traveler and a proud relief operations volunteer. Regular resource person for social media, blogging and content creation. Available for work and travel – [email protected]