A few days ago, Airphil Express invited me to join their Cebu to Hong Kong maiden flight. Since I had to be in Cebu City a day prior, the friendly folks from Airphil Express flew me from Mindanao to Cebu and sponsored my stay at the spanking Movenpick Resort and Spa in Mactan, Cebu. Muchos gracias Airphil Express! 🙂
Formerly the Hilton Cebu Resort and Spa, Movenpick Resort Cebu is now managed by Swiss-based Movenpick Hotels and Resorts. Mövenpick is said to be an upscale, Swiss hotel chain that has been in the business for 35 years. Moevenpick Resort and Spa Cebu is the very first Movenpick hotel in the Philippines.
From the Mactan Cebu airport, it will take you about 20 minutes to reach Movenpick Resort and Spa Cebu. You can take a taxi from the airport (here's a tip on how to get cheap taxi in Cebu airport or metered taxi from Mactan Cebu Airport, by the way) or you may want to contact the hotel to arrange transportation for you.
Upon arrival, I was handed a welcome drink (yummy mango juice) and a lei made of synthetic shells. Check-in was a breeze. Nice open air lobby – check. High speed elevators – check. Electronic keycard – check.
I was given a deluxe room that had a balcony. The deluxe room came with two beds. Here's how one of them looks like:
They had soft, feathered pillows so I had a really good night's sleep.
The room also had an in-room safe, hair dryer, iron and ironing board, coffee and tea making facilities, individually controlled airconditioning, cable television, high speed Internet access, lots of clothes hangers, two pairs of bedroom slippers and two robes.
See that bottle of wine? That's the multi-awarded Manny O wine. The Airphil Express bosses, employees and other guests tried it that night (the owner of Movenpick hosted a really delicious dinner) and believe me, it's really good!
Anyways, that bottle, once opened, will cost you an additional Php 1,800 🙂 If you just want a glass, though, you might want to go to Manny O's Steak and Wine bar by the peninsula.
See the welcoming work table:
And now for the most important part of a hotel room — the bathroom! Very clean, thankfully.
Just in case you're wondering, the toiletries are from Crabtree and Evelyn 🙂
Bongga kung bongga!
IMO, you're really getting what you're paying for 🙂
By the way, the staff members were very friendly and helpful. I think all of them were also instructed to speak in English as much as possible. Yup, even the Manong Driver who was in-charge of the iconic pink jeepney-shuttle! I rode that shuttle from the resort to SM Cebu. Movenpick Resort and Spa Cebu offers free shuttle rides from the hotel to either SM or Ayala Mall Cebu. Just ask for the trip schedule from the concierge at the lobby. It takes about 45 minutes to reach SM from Movenpick Hotel Cebu and about an hour to reach Ayala.
Pity I wasn't able to swim at the white sand beach. It was one of the nicest beaches I've seen in Cebu. Small but private and clean. Movenpick Cebu Hotel also has a swimming pool, a Kid's Club, a game room, a health club/fitness center which includes a sauna and steam room, a dance studio and of course, a spa. I've heard a lot about their spa treatments and perhaps one of these days I'll visit Movenpick Resort Cebu again to try some.
The breakfast buffet the next day was delicious, too! Try the porridge and ask the chef to whip up some mean omelette for you!
So are you ready for your own Movenpick Resort and Spa experience in Cebu Philippines? Book your discounted hotel room rate below! Have fun 🙂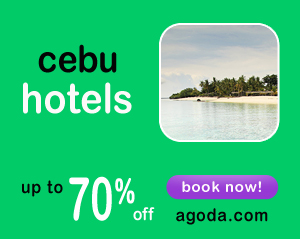 Related Images:
Mindanaoan is a multi-awarded blogger, content creator, seasoned social media strategist and publicist with undeniably successful track record. 2012 International Visitor Leadership Program (for global leaders) alumnus and O visa grantee (for people with extraordinary skills and who have risen to the top of their field). Avid traveler and a proud relief operations volunteer. Regular resource person for social media, blogging and content creation. Available for work and travel – [email protected]