I first stayed at Las Casitas Inn, Davao City, Mindanao during the campaign season for the May 2010 elections. I only stayed at Las Casitas de Angela Inn Davao City overnight then so I barely had the chance to take photos of my room.
Hence, when I went back to Davao City for a special event, I decided to check-in at Las Casitas Inn — which, by the way, is now known as Casitas Hotel. I got a single room at this Davao hotel and only paid P895.00 (roughly US$25.00)
Located along JP Rizal Street, Las Casitas de Angela Hotel is considered a "small hotel." This Davao City budget hotel is conveniently located downtown – at the very heart of the city.
From the Davao International Airport, it'll most probably take you about half an hour to reach Las Casitas Inn.
This cheap Davao hotel is a small yet homey place. It has a cafe-resto that offers short orders such as pasta, sandwiches and cakes, espresso-based beverages and other cold drinks.
The coffee shop offers free wireless Internet access.
Unlike most hotels that offer free or complimentary breakfast, Las Casitas Davao City offers free dinner instead. Do note that you cannot exchange your dinner coupon for a breakfast coupon.
Check out some of the photos I took during my stay at this budget hotel in Davao City, Mindanao:
My room has basic facilities – airconditioner, cable TV, hot and cold shower, cabinet for your clothes and other stuff, bed with thin sheets and a pillow (the pillow is pretty flimsy so you might want to ask for another one…I'm not sure if you need to pay a little extra, though) and a small work desk.
I asked for a room with a window – which turned out to be a bad decision since I was given one that was practically adjacent to this huge promenade where live bands played on both nights I stayed there. The noise was deafening and unless you don't mind staying up until about 1 in the morning, you must request for a room on the left wing facing the street.
Here's a shot of the bed:
Here's a peek of the washroom:
Took this shot as I stood by the window. The cabinet is on the right:

As you can see, the room and the facilities are pretty basic but then again I only paid P895.00. Not a bad deal, methinks. Also, if you want a bigger, better room, Las Casitas Davao also has executive suites (one room even has a jacuzzi!).
What this Davao City budget hotel can count as its biggest advantage though is its location. Location, location, location!
Right beside it is the popular Dizon Farms main outlet. On a good day, you might see suha fruits sold there at very reasonable prices. A few steps away from Las Casitas Inn, you can also find a bank, a coffee shop and yes, that promenade where you can have a nightcap. Live band performers play there every night, I believe. You can also find a 24-hour convenience store a few meters away from Las Casitas. Just ask the hotel security guard for instructions. Las Casitas Inn is also just three blocks away from People's Park (a Davao tourist spot). Again, just ask the hotel staff for instructions 🙂
Just in case you do stay at this Davao City small hotel, please don't forget to let me know! 🙂
Book your Las Casitas Inn Davao City hotel room below (just click on the banner) 🙂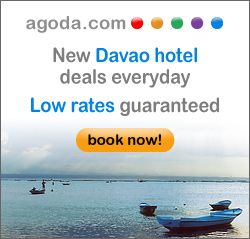 Related Images:
Mindanaoan is a multi-awarded blogger, content creator, seasoned social media strategist and publicist with undeniably successful track record. 2012 International Visitor Leadership Program (for global leaders) alumnus and O visa grantee (for people with extraordinary skills and who have risen to the top of their field). Avid traveler and a proud relief operations volunteer. Regular resource person for social media, blogging and content creation. Available for work and travel – [email protected]