Back in college, the Ateneo Glee Club had a joint concert with the Xavier University (Ateneo de Cagayan University) Glee Club. (Don't laugh but I was one of the Sopranos of the Ateneo Glee Club :D) Anyways, all of us had to stay with either foster families or in lodging houses in Cagayan de Oro City. Casa Crystalla, a budget hotel in the City of Golden Friendship, was one of the concert's sponsors and they offered several rooms for my co-club members. (I stayed with the lovely Yap family)
Fast forward a few years later, Casa Crystalla CDO is now one of the CDO inns I stay in whenever I'm in town. There are a couple of reasons why I like staying there – for one, the rates are very affordable (I usually get the deluxe room with ref, table and chairs – like a mini sala set of sorts – and bath tub worth P900.00 per night), secondly, the rooms are clean and thirdly, Casa Crystalla is located right in the heart of the city — just a block away from Xavier University and a few steps away from the Divisoria area where the Night Cafe is held every Friday and Saturday. It's also very easy to take the jeep or a cab from the inn.
The inn's room service is actually from Mom's Corner, a food joint beside Casa Crystalla Cagayan de Oro. You'd need to fork out service charge for every order, though. If you want to dine out, however, you have lots of choices! Casa Crystalla is near fastfood joints (Chowking, McDonald's, Jollibee are all just a few blocks away), restaurants like Max's and even local favorites like Annabel's (where I always have my fill of their killer palabok!) Mom's Corner is closed on Sundays, though, so if you need to have breakfast or lunch on a Sunday, you'd need to go out of the inn. SM Cagayan de Oro City is just a jeepney ride away (or if you want to take a cab, prepare roughly P80.00) as well as LimKetKai Mall.
Every room in Casa Crystalla has cable TV. What I just don't like sometimes is the buggy cable receiver and remote control. Sometimes I need to get up to adjust the volume or to change channels.
The bed sheets are clean and I think the management just recently changed the comforters and pillow cases.
There's also a large closet for your clothes, some hangers and a space for your bags. No in-house slippers are offered so you need to bring your own pair. Oh yeah, before I forget, one of the things I like is the fact that there's a seat the foot of the bed. Not exactly a seat SEAT but at least a space where you can place your bag while you sort through your things or where you can sit on while putting on your shoes. It's nothing big, I know, but for a frequent traveler like myself, I find it nice that a small lodging place in Cagayan de Oro City took the time out to put something like that. I often only find seats like that at the foot of the bed in larger hotels.
Guests are provided with towels and soap. If you forgot to bring shampoo and other toiletries, you can buy some from the front desk. The bathrooms are clean – the bathtub is clean and there's hot and cold shower.
By the way, just in case your room has a couple of coffee, sugar and cream packs near the vanity table, do note that those aren't for free. I think we ended up paying P15.00 for every serving – still affordable, IMHO. And yes, the room we usually get has an electric water heater. So just in case you want to drink coffee early in the morning, you can just do so right in your own room.
So there you go – if you're looking for a budget hotel or budget inn in Cagayan de Oro City, why not try staying in Casa Crystalla? I'm sure you'll like the place as much as I do!
BOOK YOUR CAGAYAN DE ORO CITY HOTEL ROOM HERE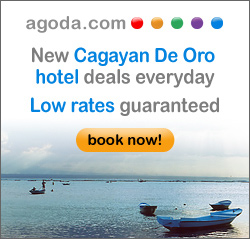 Are you an owner of a hotel or inn? Do you own a restaurant or any type of business? Do you provide a certain kind of service? Whether your establishment is in Mindanao or in Visayas or Luzon, Mindanaoan can write an honest review about your place or service. Let the people here in Mindanao, Philippines read all about it! Mindanaoan can even write a review about your establishment for FREE! Check this page out or contact me. Should the contact form fail, you may send an email to mindanaoan (at) gmail (dot) com