General Santos City, known as the Tuna Capital of the Philippines and the Home of the Generals, is currently celebrating Tuna Festival 2013! This Mindanao festival, the 15th Tuna Festival, is in celebration of the 45th Charter Anniversary of General Santos City. This year, the festivities started last August 15, 2013 and will last until September 15, 2013.
GenSan, led by its Mayor Ronnel Rivera, is home to 6 of the country's 7 tuna canning factories. Lots of metric tons of tuna, including first grade or "sashimi grade" tuna, land on the famous GenSan Fish Port every single day. In 2012, a total of 139,613 metric tons of fish were landed at the General Santos Fish Port. Those tuna then get sent out not only to domestic customers but to foreign markets as well. The tuna industry sure is the strongest employment driving force in that part of Mindanao.
GenSan Tuna Festival 2013 schedule of activities: (please click on the image for a larger view)
There are direct flights to General Santos City from Manila. Flight time is about an hour and a half.
Pasalubong ideas? I recommend tuna skin chicharon, fresh tuna (but of course!) and Sarangani Bay boneless bangus.
If you need a place to stay in General Santos City, click on the banner below. Lots of great GenSan hotels for very good prices: (Mindanaoan.com has partnered with Agoda to give you the best hotel prices possible)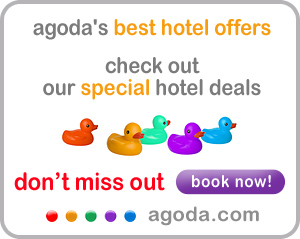 Tuna Festival 2013 schedule of activities
Related Images:
Mindanaoan is a multi-awarded blogger, content creator, seasoned social media strategist and publicist with undeniably successful track record. 2012 International Visitor Leadership Program (for global leaders) alumnus and O visa grantee (for people with extraordinary skills and who have risen to the top of their field). Avid traveler and a proud relief operations volunteer. Regular resource person for social media, blogging and content creation. Available for work and travel – [email protected]