Southwinds Hotel is located along Capt. Vicente Roa Street Extension in Cagayan de Oro City, Mindanao, Philippines. It is a hotel known for its very strategic location – Southwinds Hotel is right behind the new Centrio Mall Cagayan de Oro or the Ayala Centrio Mall, it's just a few meters away from Gaisano Mall Cagayan de Oro (walking distance) and a few blocks away from Robinson's Mall Cagayan de Oro and Lim Ket Kai Mall CDO (you can just ride one of the local trisikads or padyaks for 5 pesos per person) It's also in front of the main branch of Graphic All-In-One (a large chain of stores that sells cellular phones, cellphone accessories and the like).
Just this week, my mom, brother and I stayed in Southwinds Hotel. It was my second time to stay there, the first one was during a media tour sponsored by the Department of Agriculture a few years ago (several Mindanaoan media practitioners visited corn farms and milling areas in Baungon, Bukidnon and were briefed on hybrid corn production). My first visit was a pretty good one so I suggested that we spend our three days in Cagayan de Oro (dubbed the City of Golden Friendship) there. Plus we've already tried a couple of hotels in CDO and I wanted to blog about my experience this time around 🙂
Apart from its location, another thing that I like about staying in Southwinds Hotel Cagayan de Oro is the fact that its room rates are affordable. For a de luxe room, you only need to pay P1,060.00 (roughly US $25.00). Each deluxe room is good for double occupancy and get this – you also have free breakfast (good for two persons). You can choose whether you want Continental Breakfast, American Style Breakfast or Filipino Breakfast. During our stay, I opted for the Filipino Bangsilog (fried bangus fish seasoned with lots of garlic and pepper, sinangag or fried rice and itlog or egg) meal. Delish. Every breakfast meal comes with brewed or instant coffee.
Now for the room – our deluxe room had two single beds, a dresser, cable TV, cabinets and a small nook where there's a small table and two cushioned chairs (very convenient especially if you're on a business trip and you brought a laptop along). There's hot and cold shower and there's bedside control for the lights. You will only be provided with a small bar of soap and a sachet of shampoo though so it would be advisable if you could bring toiletries with you. I was also pleased to see that the room had several power outlets (sockets) – that meant that the management didn't let their guests feel as if they were restricted or something.
One of the "distinct" features of Southwinds Hotel, by the way, is its very ample parking space for clients and guests. In fact, I think Southwinds Hotel is one of the very few remaining hotels in Cagayan de Oro that has that much parking space for guests. Hence, if you're traveling with family and you brought your vehicle along, you won't need to worry about safekeeping it.
The one thing that I could probably say I didn't like during my entire 3-day stay in Southwinds Hotel is the hotel staff members' lack of courtesy. During our check-in, for instance, one of the female receptionists that I spoke to immediately shifted her attention to another guest, leaving me unattended. That didn't sit well with me. The other female receptionist, on the other hand, looked gloomy and indifferent and merely recited the "benefits" that come with our room – i.e. free breakfast will be served from 6 to 10 am blah blah. Not once did she and the other receptionist smile or at least looked glad that they had new guests. Also, during breakfast (on our second day there), the waitress, waiters and cooks were all busy watching HBO ("Spiderman 3" was on and they had this huge TV at Cafe Bea, where the complimentary breakfast was served to hotel guests). So I found it uncomfortable to "interrupt" their HBO-watching session and ask for condiments because they really looked too engrossed watching the movie. The staff members were also busy, loudly chatting about the film which I found uncomfortable as well. I felt that the hotel guests should be given their "privacy" – at least a few minutes of silence during breakfast. I guess they shouldn't have turned the TV on that day. Instead, soft music will do. Or better yet, they should've just switched to a news channel – I'd prefer that over Spiderman 3.
Still, I could probably still see myself staying at Southwinds Hotel Cagayan de Oro sometime soon. The room rates are reasonable, the breakfast meals are hearty and the location's great. Let's just hope that their staff members do better next time.
Southwinds Hotel is located along Capt. Vicente Roa Street Extension, Cagayan de Oro City, Mindanao, Philippines.
BOOK YOUR CAGAYAN DE ORO CITY HOTEL ROOM HERE
Or you can search for other options below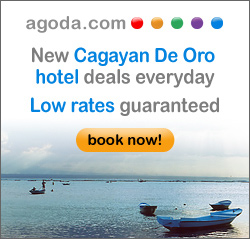 Are you an owner of a hotel or inn? Do you own a restaurant or any type of business? Do you provide a certain kind of service? Whether your establishment is in Mindanao or in Visayas or Luzon, Mindanaoan can write an honest review about your place or service. Let the people here in Mindanao, Philippines read all about it! Mindanaoan can even write a review about your establishment for FREE! Check this page out or contact me. Should the contact form fail, you may send an email to mindanaoan (at) gmail (dot) com