So on a recent trip to Camiguin Island, my family and I stayed in a different resort in Camiguin this time (we've already stayed at Tia's Beach Resort, Golden Sunset Camiguin etc) After a little bit of research and getting recommendations from friends, I booked a family suite at Villa Paraiso Resort and Apartelle Camiguin.
I chose Villa Paraiso Resort Camiguin because it was located in Mambajao, the capital town of Camiguin, because they offered a 20 percent discount (off-season rate), because their resort had a pool (I figured my family and I would like to go on a night swimming session), because their room rates came with free continental breakfast (read: toasted bread and eggs) and free unlimited coffee (cool!) and, most importantly, the one who took care of my room reservation, Bernadette, was the friendliest staff member I've ever encountered. I'm not kidding! She was professional and courteous – and that, to me, made a big difference.
Since we were given a discount on the room rate, we availed of Villa Paraiso Camiguin's van transportation service (Php 700 one way). The driver fetched us from Benoni Port on time. We were pleased to see a clean and fairly new van. Travel time from the Port of Benoni to Villa Paraiso Resort took about 20 minutes.
Welcome to Villa Paraiso Resort Camiguin!
Our suite had a separate inner room. The inner bedroom was fully airconditioned, had a table and a chair, had a dresser and cabinets.
The living room area, on the other hand, was also fully airconditioned and came with two sofa beds and two pullout beds plus flat screen cable TV.
The kitchen. We weren't able to cook anything but we were able to use the plates and utensils plus the water heater came in pretty handy.
Here's the dining table where my family and I had small salu-salos during our stay.
The comfort room had hot and cold shower. It looked pretty basic but functional. I don't think there were any toiletries at all so do bring some if you decide to stay here. The resort will provide towels and there's an area at the back where you can hang your clothes to dry.
The garden area near the swimming pool. See that large white screen? That's where they show films, concerts etc during weekends. I think they also have a videoke night.
By the way, this Camiguin hotel also has economy rooms (good for two), family rooms (good for 4) and a dormitory (perfect for large groups). I think a dorm room can accommodate up to 12 people and the room rate is only Php 3,000. Not bad 🙂
Other facilities at this hotel in Camiguin include a tennis court, function hall, a Tiki Bar and a restaurant. You can also rent their van for Php 3,000 (first 8 hours).
We had a pleasant stay at this Camiguin resort. So the next time you plan to have your own Camiguin adventure, you might want to check out Villa Paraiso Camiguin.
Book your room at Villa Paraiso Resort and Apartelle Camiguin Island here or you can click below: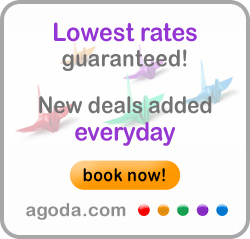 Please feel free to share this page 🙂 Thank you!
Other Camiguin Island related articles you might like:
Camiguin Island Travel Guide
Cebu to Camiguin Flights
Camiguin Island zipline adventure
Backpacking in Camiguin Island